Introductory talks
Margaret gives frequent introductory talks in Lagos and other locations, during the months when she is in Nigeria. You can get details from Margaret and book into a talk in advance - call +234 708 555 7890 or (UK) +44 7786 472 394. Alternatively, you can email nigeria@tm.org.

Introductory talks are free of charge and by attending, you are under no obligation to learn.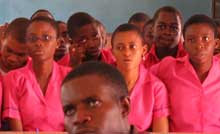 Courses of Instruction
Margaret teaches Transcendental Meditation courses at the weekends and during the week. Times are flexible. A course consists of four sessions on four consecutive days. Each session lasts between 1.5 and 2 hours. There is an optional six month follow up programme that is included in the course fee.
The first step is to attend an Introductory Talk, when you can also chat privately with Margaret and discuss dates and times for learning.