Nigeria TM Centre - Contact Details
Email: nigeria@tm.org
Telephone: +234 708 555 7890
or (UK) +44 7786 472 394
Centre Chairman: Dr Margaret Obomanu
Location: Asaba, Nigeria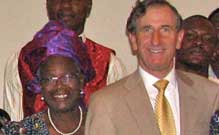 Local teacher - Margaret Obomanu
Margaret - pictured left with visiting expert in Consciousness Based Education, Dr Ashley Deans - has been a teacher of Transcendental Meditation since 1994. Based in Nigeria and the UK, she has taught in a number of African countries. Margaret says, "The ability to transcend and reach inner silence is universal. I look foward to sharing this practical knowledge with as many people as possible in Nigeria."
For those already practising Transcendental Meditation
Meditators' Meetings: Are held regularly at the centre when Margaret is in Nigeria - please contact us for full schedule.
Personal Checking: To refresh your practice and receive more guidance on your TM technique, these one-to-one 30 minute sessions are available by appointment.
Refresher Courses: If you would like to refresh your practice and understanding of Transcendental Meditation, why not sit in again on a course of instruction. Phone or email for details.